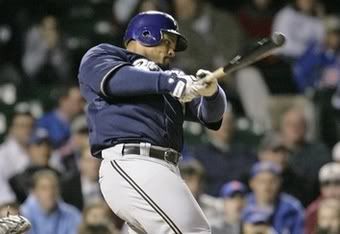 Major League Baseball's winter meetings are underway and big names have already started relocating. The big player to already find a new home is shortstop Jose Reyes, landing with the Miami Marlins.
However, the biggest name on the market is still sitting in the free agency pool, just waiting to be reeled in. First baseman Albert Pujols is gathering offers of 10 years and upward of $200 million in order to sign with clubs, namely the Miami Marlins or St. Louis Cardinals.
With the Marlins making deals for Reyes, closer Heath Bell and starting pitcher Mark Buehrle, their participation in the chase for Pujols may be limited, or non-existent altogether. The asking price may be too high. That doesn't mean, though, that options are completely gone.
There is another man, at the same position, that is available to teams. In the 2011 season, he had more home runs than Pujols, more runs batted in, and a higher on-base and slugging percentage. Plus, he's four years younger. That man is Prince Fielder.
The first baseman from the Milwaukee Brewers is sitting back and watching as Pujols gets offers for huge amounts of money, when Fielder may be the better long-term option. He's younger and his stats from last year were already better (for the most part) than Pujols in less at-bats. So why isn't Fielder getting the same amount of attention that Pujols is getting?
It is expected that the market for Fielder is about to start heating up with teams realizing Pujols' asking price and seeing how high it is. It may be better for teams to go after the big slugger out of Ontario, California. It could be the smarter move.
With Fielder, you get the younger player who seems to be matching Pujols production-wise. The 5'11", 275 lbs. lefty-hitter poses a big threat in the heart of the lineup; a threat that will force a lot of teams to plan around. Plus you may get him for a lower price tag, allowing for more signings of free agents currently out on the market.
Prince Fielder should see a significant increase in the attention that he is getting from teams. That attention is very justifiable. Just not with $200 million over the next 10 years.
By: Brandon Williams