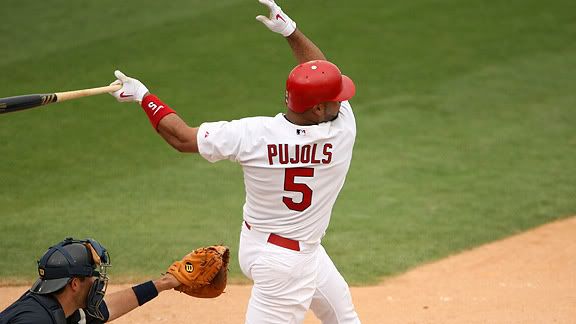 It's been in the news back and forth for days; Miami Marlins and the St. Louis Cardinals attempting to secure first baseman Albert Pujols. Well, the bidding war for Pujols is over and the winner of his services: the Los Angeles Angels.
In a surprise turn of events, the Angels and Albert Pujols have agreed on a 10-year contract that will pay out somewhere between $250 to $260 million. That's $25 million a year for a player that will be 32 years old in January.
The slugger did show that he has a ton of game left in him, though, hitting 37 home runs and 99 runs batted in last season.
The deal will feature a full no-trade clause as well, meaning he can reject any trade possibility that the Angels may pursue should they no longer want Pujols. The three-time MVP finished last season with a .299 batting average, the first time in his 11-year career that he didn't finish with an average better than .300. It was also the first time he didn't hit 100 runs batted in, but he did have some struggles with an arm injury.
With Pujols off the market, the Marlins turned their attention to starting pitcher C.J. Wilson. It was reported this morning that C.J. Wilson had signed a five-year, $77.5 million contract, also with the Los Angeles Angels.
That's right. The Angels have secured both of the biggest prizes in the free agent market with Pujols and Wilson. The two signings, despite both being in their 30s, can be the pushing factor to get the Angels in consistent World Series talks for years to come.
On a lesser note, the team also signed veteran 38-year old reliever LaTroy Hawkins to bolster the bullpen. The 16-year player finished last season with a 2.42 earned run average, three wins and one loss.
It's clear that the Angels are not afraid to make the big moves and push the envelope. How these big moves will pay off for the Angels will be determined next season, but if the players' play last season was any indication, these signings may have the Angels as the favorites to win the MLB World Series before the season even starts.
By: Brandon Williams