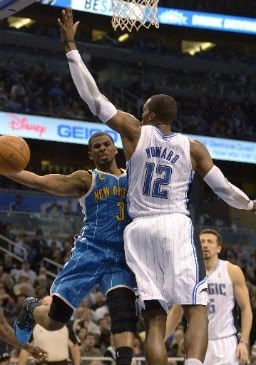 When the lockout ended this past Saturday, talks began right away about the future of certain players. There have already been plenty of names tossed around, with free agency being the big topic. However, none of those names are bigger than Chris Paul and Dwight Howard. Both players are in the last year of their contracts and both are expected to change uniforms in July of 2012. Their current teams would like to trade them before that time in hopes to get some kind of compensation for the talent that they will inevitably lose anyway.
For Chris Paul, he's made note that his dream destination at this point is with the New York Knicks. He likes the prospect of joining Carmelo Anthony and Amare Stoudemire, forming a dangerous trio to counter the powerhouse Miami Heat with Dwayne Wade, LeBron James and Chris Bosh. The Boston Celtics, however, have been reportedly very interested in acquiring Paul, packing some sort of deal surrounding their shifty point guard Rajon Rondo. Paul has stated, though, that he wouldn't sign an extension if he was dealt to the Celtics. It's understandable, as the Celtics may have to start the rebuilding process next year with both Kevin Garnett (35 years old) and Ray Allen (36) in the final years of their contracts as well. Paul would love to go to a team that is already ready for future runs at the NBA Championship.
For Dwight Howard, the early suitors are the New Jersey Nets. It's being reported that the Nets are preparing a deal that will package 23-year old center Brook Lopez and two first round picks to offer to the Orlando Magic. The Nets would also reportedly offer to take on the huge 3-year, $35 million contract of Hedo Turkoglu. The Nets would get their main target in Howard, who is still just 25 years old and a dominant force in near the basket. Along with the Nets, it is expected that the Los Angeles Lakers will make a play for Howard. While the Nets can offer the Magic a young replacement as well as two higher draft picks, the Lakers could package some combination of Pau Gasol, Andrew Bynum and Lamar Odom, providing the Nets with some consistent players that still have many years to offer.
Deals and free agency will begin December 9th and these are the two biggest names expected to make headlines this year in terms of future destination.
By: Brandon Williams