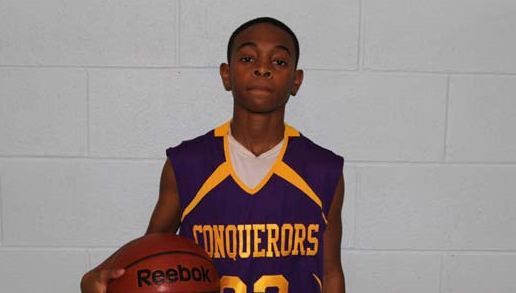 If you're wondering the same thing, Damon Harge is a basketball player dominating high school play in North Carolina. The kicker here: Harge is a 5'4", 120 lbs. sixth grader. The 12-year old phenomenon has been playing against some competition much older than him and has been gaining national attention for dominating. It started when he was dominating middle school challengers. Then, when he was in fifth grade, he averaged 35 points against kids that were three years older than he was.
Now, Harge is a sixth grader playing high school basketball for Creedmor (N.C.) Christian Faith Center Academy against some of the top prep basketball teams in the county.
It may seem like a lot of hype for a 12-year old kid who has plenty of time to play (he is part of the Class of 2018), but when you score 50 points at a National Invitational Tournament with John Wall watching, it's bound to bring you a lot of attention.
Christian Faith Center Academy coach Kendrick Williams has been one giving much praise to Harge, but it's well-deserved as Harge has an amazing work ethic for someone at his age. Every morning, Harge is awake at 4:30 and practicing, putting up an average of about 6,500 shots per week. That amount at his age is a spectacular number.
More recently, Harge was a part of the ScoutsFocus Elite 80 Showcase, which featured some of the nation's top Division I recruits. Harge took the event by storm and averaged 11 points a game.
If you want a look at Harge for yourself, here you go:

http://youtu.be/u-Hdu5u1IWs
http://youtu.be/YH39dsSBBvs
By: Brandon Williams Thanks to CityLeagueHoopsTV and HoopsBayArea for the amazing videos.