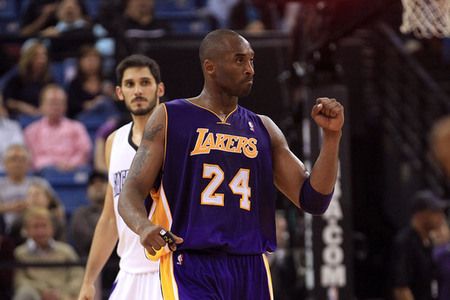 Kobe Bryant is just making it look so easy.
Despite all the worries that the Lakers had coming into the season with trade rumors, the Lamar Odom trade, Kobe's knee, and then Kobe's wrist, number 24 is putting those at ease. Currently, the Lakers are 8-4 and have been running on all cylinders on their way to a four-game winning streak. The success all starts with Kobe, but it's nothing new to him.
What's the difference between the Kobe of old and the man we've been seeing lately? It's his efficiency.
For years past, critics of Bryant would lay constant claim of the star shooting the ball too much. Sure, he shoots a lot, but in the past, it was all about him forcing shots. That's where the trouble was for most critics.
Now, the same cannot be said. Over the last five games (in which the Lakers are 4-1), Kobe has taken 136 shots. That's 27.2 shots per game. A lot right?
Sure, but he's made 69 of those shots, or 13.8 per game. That's a 50% average over those five games. That's better than most of the NBA and equal to plenty of big men who are taking shots within eight feet of the basket; Kobe's doing it from all over.
Those are very impressive stats for anybody in the NBA, let alone a shooting guard with torn ligaments in his shooting wrist.
You can tell Kobe all you want that he shoots too much, but that doesn't matter to him. His arguments against that point are dead on.
If he doesn't shoot so much and passes more and the Lakers lose, who gets the scrutiny? If he scores 40 while shooting 50% and the Lakers win, he's shooting too much. It's a lose-lose for Kobe Bryant.
However, as stated before, it doesn't matter for Bryant. His focus is on winning basketball games. The method in which it happens, well that's up to how the game plays out.
By: Brandon Williams