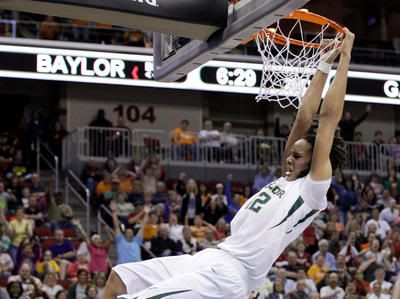 Following Tuesday Night's 80-61 victory over Notre Dame, the Baylor Lady Bears have completed the first 40-0 season in NCAA Women's Basketball history.
The most dominant player all season, Brittney Griner, led the team with 26 points and 13 rebounds. The problem for the Notre Dame Ladies came in the second half. Already down 34-28 at the half, they allowed for a second half deficit of 46-33. Skylar Diggins did all she could for the Fighting Irish, scoring 20 points of her own, but it just wasn't enough to end the dominance that Baylor had produced all season long.
For Baylor, it is their second national championship, which they also won in 2005. For Notre Dame, it is their second straight loss in the title game as they lost to Texas A&M last year.
Both Griner and Diggins could join the WNBA draft, but it appears as both of them will return for their senior seasons.
After the game, Griner and the Lady Bears celebrated by cutting down the net and Griner danced with Heisman Trophy winner and fellow Baylor Bear Robert Griffin III. It was a fitting end to an unbelievable season for Griner, the Lady Bears and their coach Kim Mulkey.
By: Brandon Williams Member of the Football Writers Association of America