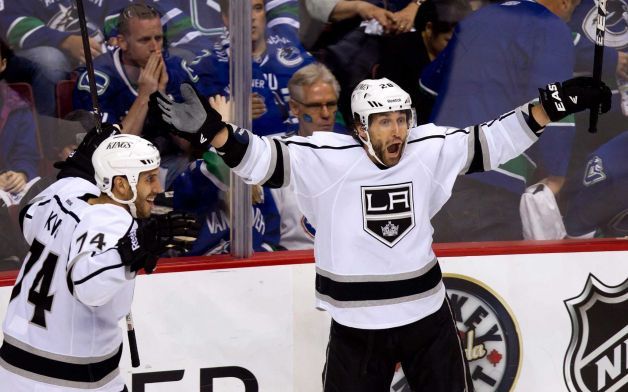 Los Angeles Kings Defeat Top Seeded Vancouver It took the Kings an 4:27 of the overtime period to knock the Vancouver Canucks from the playoffs on a quick shot from Jarret Stoll.
After a turnover by the Canucks, Stoll took the puck on a 2-on-1 break and scored from the left wing past goalie Cory Schneider to give the Kings their first playoff series win since 2001. Brad Richardson also scored for the Kings at 3:21 of the third quarter to tie the game after Henrik Sedin opened the scoring in the first period on a power-play for Vancouver.
Here is the final play of the game:
http://www.youtube.com/watch?v=R0Y5gLb0SgQ Video credit to Fred Murtz
Metta World Peace Goes Ron Artest on James Harden Metta World Peace or Ron Artest; different names, but same person. If anyone knows Artest, they've seen the countless moments where he goes just a little off the deep end and his actions during Sunday's game between the Los Angeles Lakers and the Oklahoma City Thunder were no different.
In the second quarter of the game, the Lakers' World Peace dunked the ball while being guarded Kevin Durant and Serge Ibaka. As he celebrated, he and the Thunders' James Harden got a little too close for comfort and the player formerly known as Ron Artest threw an elbow to the side of Harden's head. Harden left the game with a concussion and MWP now faces league discipline.
This certainly isn't the first of incidents including Artest, as many will remember the brawl that ensued at The Palace. Here is a video of Sunday's incident. Artest said it was unintentional; what say you?
http://www.youtube.com/watch?v=eEG8DOSMMTw Video credit to TrollsInParis
Brian Dawkins Retires It is with great sadness that one of the most intimidating forces in the game of football is leaving the game.
Brian Dawkins, a man who thrived off of punishing opponents in a way few have been able to do without fines or suspensions, is retiring from the NFL. He is one of the last left of a dying breed; a player that imposed fear into his opponents with his style of play. He is the epitome of a Hall of Fame player.
His leadership and ability to rally his troops was second to none. Dawkins suffered a neck injury in December that kept him out of the Denver Broncos' playoff run, but that didn't stop him from giving everything he could to his teammates.
Dawkins leaves the game having compiled 1,131 tackles, 26 sacks and 37 interceptions on his career. As great a player as he was, he was an even bigger influence in his community and in the locker room. Congratulations on an outstanding career Brian Dawkins. We leave you with this.
http://www.youtube.com/watch?v=bjmEUaSStfs&feature=related Video credit to MoreThanMachineFit
By: Brandon Williams Member of the Football Writers Association of America