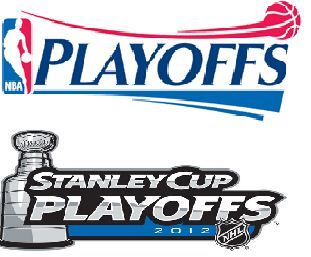 The drama of the playoffs for both the NBA and the NHL is in full swing and the games are getting better and better.
NBA Playoffs The NBA playoffs are now in progress after the shortened regular season and already, tension is rising and drama is unfolding.
In the series between the reigning NBA Champion Dallas Mavericks and the Oklahoma City Thunder, a scuffle was close to breaking out between Kendrick Perkins and Dirk Nowitzki. The tension mounted when a shoving match occurred during a box out and luckily ended without getting too escalated. It's easy to see why the Mavericks are getting frustrated as last year's title winners are now down 2-0 in the best of seven series.
In the Eastern Conference, the series between the New York Knicks and the Miami Heat just got even more lopsided. After the game two loss that put the Knicks down 2-0 in the series, Amare Stoudemire lacerated his left hand with a punch to a fire extinguisher casing. Now, Stoudemire is almost certain to miss game three and could miss the rest of the series due to the injury.
Here are the current series and how they are holding up:
Eastern Conference Chicago Bulls vs. Philadelphia 76ers (Chicago leads series 1-0) Miami Heat vs. New York Knicks (Miami leads series 2-0) Indiana Pacers vs. Orlando Magic (Series tied 1-1) Boston Celtics vs. Atlanta Hawks (Atlanta leads series 1-0)
Western Conference San Antonio Spurs vs. Utah Jazz (San Antonio leads series 1-0) Oklahoma City Thunder vs. Dallas Mavericks (Oklahoma City leads series 2-0) Los Angeles Lakers vs. Denver Nuggets (Los Angeles Lakers lead series 1-0) Memphis Grizzlies vs. Los Angeles Clippers (Los Angeles Clippers lead series 1-0)
NHL Playoffs The NHL Playoffs are right in the thick of the conference semifinals and there is a big surprise coming out of Los Angeles.
The eighth-seeded Kings are off to a hot streak after they beat the top-seeded Vancouver Canucks in five games. Now, they lead the St. Louis Blues 2-0 and are looking at a possible matchup with the Phoenix Coyotes -- who lead their series with the Nashville Predators 2-0 -- in the Western Conference finals.
Here is how the semifinals are looking right now:
Eastern Conference New York Rangers vs. Washington Capitals (Series tied 1-1) Philadelphia Flyers vs. New Jersey Devils (Philadelphia leads series 1-0)
Western Conference St. Louis Blues vs. Los Angeles Kings (Los Angeles leads series 2-0) Phoenix Coyotes vs. Nashville Predators (Phoenix leads series 2-0)
The playoffs are only going to get better from here so be sure to catch all the action!
By: Brandon Williams Member of the Football Writers Association of America