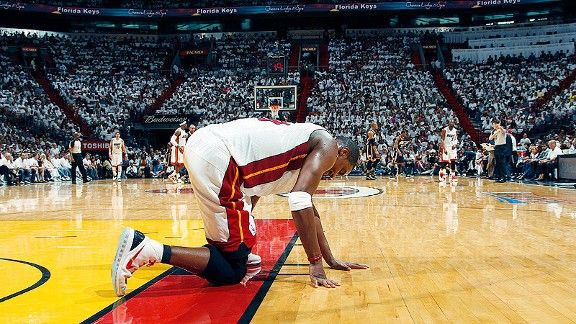 The Miami Heat beat the Indiana Pacers in game one of their series, but they may be without Chris Bosh the rest of the way.
Bosh suffered a lower abdominal strain late in the first half when he pulled the muscle on a dunk. He was fouled on the dunk by Pacers center Roy Hibbert and went to his knees before leaving the game. The severity of the injury was unknown on Sunday, but after an MRI today, Bosh has been labeled out indefinitely.
In nine games without Bosh during the regular season, the Heat went 4-5.
Abdominal strains can be very tricky and could range with the player missing no time at all, or possibly four to six weeks, depending on the severity.
The loss of Bosh didn't hurt the Heat too bad in game one as reserves Joel Anthony and Ronny Turiaf played well in his absence. However, what kind of impact this may have on the rest of the series and the remainder of the playoffs has yet to be determined.
If the Heat can beat out the Pacers, they will go on to face the winner of the Boston Celtics/Philadelphia 76ers series. Bosh's presence could be crucial against a player like Kevin Garnett should that be the match-up we were to see.
This injury will also bring out questions of LeBron James and if he can step up in Bosh's absence.
Other news: The Western Conference second round match-ups are set with the San Antonio Spurs taking on the Los Angeles Clippers and the Oklahoma City Thunder going up against the Los Angeles Lakers.
By: Brandon Williams Member of the Football Writers Association of America