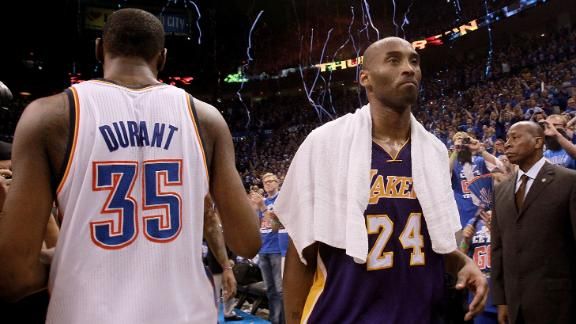 The Oklahoma City Thunder did what they set out to do and the young team beat the Los Angeles Lakers in five games to advance to the Western Conference Finals.
Once again, it was the Thunder's "Big 3" who provided the spark as Russell Westbrook scored 28 points with Kevin Durant adding 25 points and 10 rebounds. James Harden sparked the bench, scoring 17 points as the Thunder bench totaled for 35 points while the Lakers' bench scored just five points.
The difference in the bench scoring is what helped determine the outcome of the game as four Lakers' starters scored in double digits led by Kobe Bryant who scored 42 points. The Lakers' starters outscored the Thunder's starters 85 - 71, but the Lakers also allowed 14 offensive rebounds compared to their three.
Now, the Thunder will move on to meet the San Antonio Spurs who have won 18 straight games and have swept both of their playoff opponents to this point.
The Lakers, on the other hand, have major work to do if they want to get back to the championship next year. At the end of the game, it came down to Kobe and Pau Gasol bickering and Andrew Bynum suggesting that while he would like to remain with the Lakers, he was open to "playing anywhere".
By: Brandon Williams Member of the Football Writers Association of America