February 4, 2015
Miami Heat Take 2-1 Series Lead Over Oklahoma City Thunder
Author: admin
---
---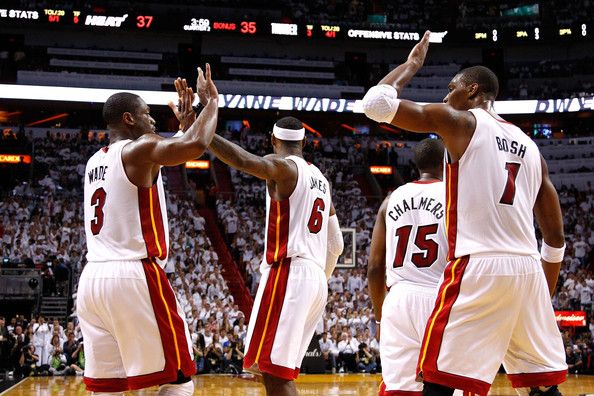 Fueled behind LeBron James' 29 point performance, the Miami Heat have taken a 2-1 series lead over the Oklahoma City Thunder in the NBA Finals.
Along with his 29 points, James had 14 rebounds and Dwayne Wade added 25 points, seven rebounds and seven assists as the Heat took Game 3 with a 91-85 victory. Kevin Durant had 25 points for the Thunder, but he ended up in foul trouble in the third quarter and had to take a seat.
With both Durant and Russell Westbrook on the bench for the second portion of the third quarter, the Thunder lost a 10-point lead and went into the final quarter with the Heat scoring the final seven points of the third and leading 69-67.
Game 4 of the series is Tuesday night and the Heat will look to take a 3-1 lead and move one step closer to the title that they missed out on last season when they lost to the Dallas Mavericks in the NBA Finals. The biggest differential of Game 3 came at the free throw stripe where the Heat had 35 free throw attempts, making 31. The Thunder reached the charity stripe 24 times and made just 15 of those.
By: Brandon Williams Member of the Football Writers Association of America
---
---

A Closer Look At The 10 Most Iconic Moments in NBA History

Atlanta Hawks vs. Golden State Warriors - What To Expect

Los Angeles Lakers vs. Philadelphia 76ers - Season Heats Up

Phoenix vs. Dallas Prediction and Statistics - Key Details

Here's The Entire NBA Schedule 19 Dec to 25 Dec

Toronto vs. Brooklyn Match Predictions and Other Details

Indiana Pacers vs. Dallas Mavericks - All You Need To Know