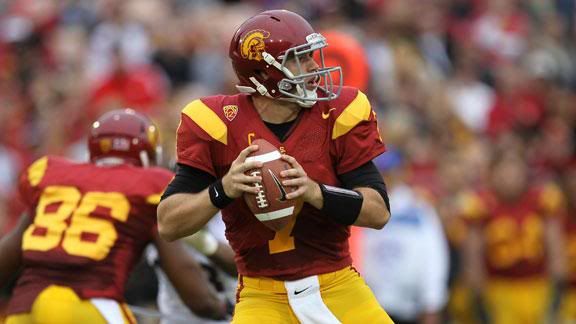 Athlon Sports has released its very early Top 25 for the 2012 NCAA College Football season and it holds a very intriguing team near the top.
The rankings place the University of Southern California Trojans at number two overall. Of course, they have that ranking pending on the decision of one person: Matt Barkley.
The junior quarterback is the golden boy of the men of Troy. He's the leader, the captain and the biggest reason why they're coming off a 10-win season in which he broke multiple records. He's the reason to believe the Trojans could very well be National Championship contenders next year.
However, there is one little speed bump in the way of the Trojans and it comes in the form of the NFL Draft. There are a couple of underclassmen who could take the jump to the next level, but none more important than Matt Barkley.
Defensive end Nick Perry, safety T.J. McDonald and offensive tackle Matt Kalil are the other juniors that would potentially join the draft and at least one of them could also directly affect Barkley's decision. That man would be Matt Kalil. Kalil is Barkley's main enforcer on the offensive line and the man that keeps Barkley and his million dollar arm safe.
The Trojans have so much talent at many different positions going into next season, with the offensive left tackle and quarterback spots being the main uncertainties. With Kalil gone, the search for the cornerstone left tackle will be a demanding one, scouring the depth chart and recruits from all over determining who could step in Kalil's shoes.
The quarterback position, should Barkley declare for the NFL Draft, would come down to three young players with very little experience. Jesse Scroggins, Cody Kessler and Max Wittek would be the ones to battle it out in an attempt to replace one of the best quarterbacks to wear the Cardinal and Gold. It's a task that won't come easy if Barkley takes his talent to the next level.
If Barkley and Kalil return, however, it keeps an already explosive offense intact. Receiver Robert Woods will be a junior and receiver Marqise Lee will be a sophomore, both putting up over 1,000 yards this season. Tight end Randall Telfer and running back Curtis McNeal would both be more experienced and ready to help the Trojans in their quest for the title.
The Trojans finished the 2011 season as probably the best team in the nation through the second half of the season, but are unable to participate in post-season play due to sanctions. The post-season ban is now officially over, meaning 2012 could be a very big year for the Trojans.
If Kalil and Barkley return, it could mean a return to the top for the men of Troy. It could mean the Coliseum rocking with students, a "V" high in the air. It could mean another National Championship sitting in Heritage Hall.
By: Brandon Williams