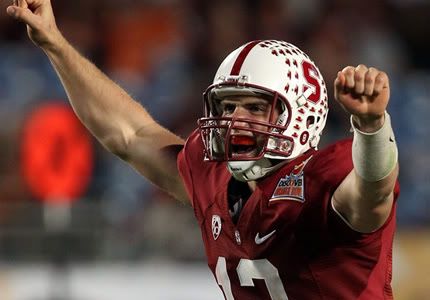 Just as everybody knew would be the case, reports are surfacing that the Indianapolis Colts have informed Andrew Luck that he will be the number one selection in next week's NFL Draft.
It comes as no surprise as Luck has been the consensus top pick for the past year and could have been the first overall pick had he declared for the 2011 NFL Draft. With Luck, the Colts find a replacement for Peyton Manning, who they released last month and he signed with the Denver Broncos.
Luck comes in at 6'4", 234 lbs. and finished his college career at Stanford with 9,430 yards, 82 touchdowns and just 22 interceptions.
With Luck on his way to play for the Colts, the Washington Redskins -- who own the number two pick overall -- will most likely be taking Baylor quarterback and Heisman Trophy winner Robert Griffin III. Griffin, or RG3 as the media has called him, recently turned down a private workout for the Colts and has been in talks with the Redskins already.
If Luck plays as he has in college for the Colts, they move from one generation to the next in the line of great quarterback play.
The 2012 NFL Draft begins Thursday, April 26 at 8:00 P.M. Eastern Standard Time with the first round and will continue on Friday, April 27 and Saturday, April 28 until all seven rounds have concluded. However, we can now fully expect the first two selections to be set in stone for the day one week from today.
By: Brandon Williams Member of the Football Writers Association of America