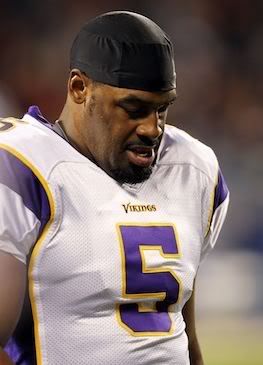 It has been reported today that the Minnesota Vikings plan to release quarterback Donovan McNabb.
The 35-year-old signal caller has spend the last 5 games for the Vikings on the bench after jumping out to a 1-5 start to the season. He was benched in the third quarter of a 39-10 loss at Chicago in favor of rookie first round pick Christian Ponder. They are 1-4 with Ponder under center.
The Vikings traded for McNabb in the offseason, giving up 2 sixth round draft picks to the Washington Redskins in order to get him. In his six games this season, McNabb was able to throw for 1,026 yards and four touchdowns, giving him a passer rating of 82.9.
He was also replaced in Washington last season after having a career-worst 77.1 passer rating through 14 games. In those 14 games, he threw 15 interceptions, prompting the Redskins to bench him.
McNabb is set to be placed on waivers, with teams such as Dallas, Houston and Chicago possibly putting in a claim. If McNabb clears waivers, a 24-hour process that is not likely, he is free to sign with any team and his hometown Chicago Bears may be his favorite.
McNabb is a 13-year veteran with over 37,000 career passing yards and 234 touchdowns. However, it appears over the past two years that he just doesn't have it anymore. Although, a playoff team with a need at quarterback like Chicago or Houston (both Jay Cutler and Matt Schaub went down with injuries) could make a play for him. Chicago also tried to put in a claim in November for Kyle Orton, who was released by the Denver Broncos and claimed by the Kansas City Chiefs.
McNabb spent a majority of his career with the Philadelphia Eagles, leading them to five NFC East Titles, five NFC Championship Games, and the Eagles first Super Bowl berth in 24 years in 2005. His experience could be a beneficial characteristic for a team about to make the playoff push.
By: Brandon Williams