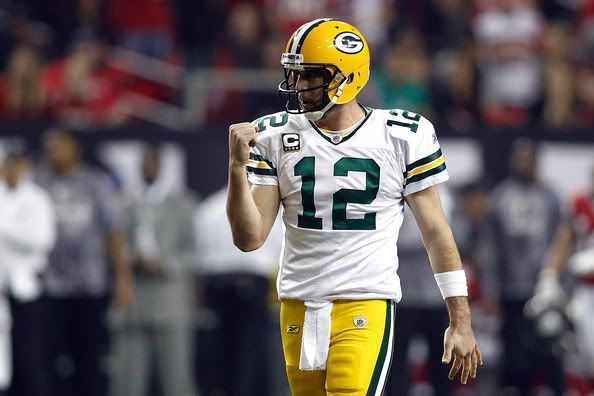 For anybody that has watched a Green Bay Packers game this season, you should really feel grateful. If you watched a Packers game, you have witnessed a man who could potentially have the best season a quarterback could ever have.
The Packers are 12-0 this season, having won their last 18 games overall. They've been able to do so behind the arm of quarterback Aaron Rodgers. See, what Rodgers has done for the team is nothing short of amazing as some are calling it the best they've seen a quarterback play. Ever.
That's a high praise coming from guys like Kurt Warner and Tom Brady, who are two of the best to play the position and sure fire future Hall of Famers. When you break it down, they may be 100% correct in their analysis. It's not just for the individual stats either.
Rodgers is leading a very high-powered Packers offense that averages 35 points per game and 405.2 yards per game. The team has made it to 12-0, with the Oakland Raiders, Kansas City Chiefs, Chicago Bears and Detroit Lions left on the schedule. Both the Raiders and Chiefs have been average at best this season and Packers have already defeated Chicago and Detroit this year by a combined score of 54-32, giving the Packers the edge and a good shot at going 16-0. The undefeated regular season could set them up for a run at back-to-back Super Bowl championships, which would also mean a perfect season.
A perfect season has only been accomplished once; in 1972 by the Miami Dolphins.
That would be the icing on the cake for Rodgers who is in line to break records of his own. With 37 touchdowns on the season already, Rodgers needs 13 more to tie Tom Brady's record of 50 touchdown passes on a single season. He's currently on pace to throw 49.
Over 12 games this season, Rodgers has thrown for 3,844 yards, averaging 320.3 yards per game. That would give him 1,281 yards over the next four games if he stayed on that pace, totaling 5,125 yards; that's enough to break Dan Marino's single season passing yardage record of 5,084.
His quarterback rating over the course of the season thus far is 125.3, which is a good four points more than Peyton Manning's record.
Of course, these are all assumptions and would require Rodgers to continue playing at such a high level. However, if you look at the Packers' next four opponents, it's difficult to see who would stop Rodgers. The Chiefs are allowing 344 yards and 22 points per game. The Raiders are allowing 373 yards and 25 points per game. The Bears allow 359 yards and 20 points per game and the Lions allow 338 yards and 23 points per game. The teams are ranked 11th (Lions), 12th (Chiefs), 17th (Raiders), and 28th (Bears) overall in passing defense.
For any team going up against Rodgers and the Packers, the cards are stacked against them. The defending champions want a repeat and look to be well on their way to that.
The Raiders, Chiefs, Bears and Lions need to find some way to stop Rodgers or they will just be stepping stones for Rodgers on his path to NFL greatness. Rodgers wants to make history and with the way he's played all season long, there's very little that can stop him from reaching that goal.
Interesting to think that during the 2005 NFL Draft, Aaron Rodgers sat and watched 21 teams select players other than him including names like Troy Williamson, David Pollack, Alex Barron, Matt Jones, Mark Clayton and Fabian Washington.
Who has the last laugh now?
By: Brandon Williams