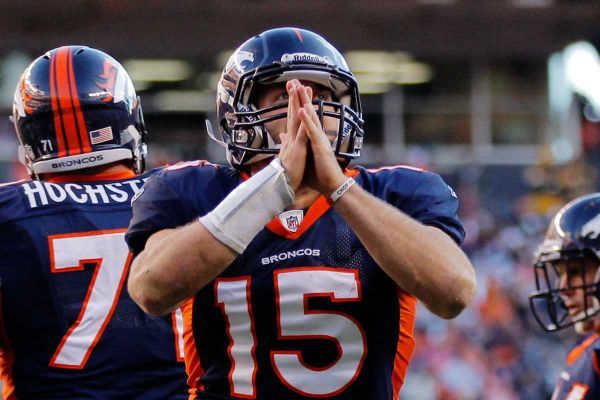 Once again, Tim Tebow was the hero for the Denver Broncos in a close game.
Heading into overtime against the Pittsburgh Steelers and their vaunted defense could be tough for any quarterback in the league. Tim Tebow, on the other hand, is not fazed. He remained calm, took the snap and threw.
That's all it took. One play.
Eighty yards later and Demaryius Thomas strolled into the end zone, ending the overtime Wild Card game and pushing the Broncos into the next round of the playoffs. Again, it's never real pretty (10-of-21), but it is effective with Tebow. He threw for 316 (Here come the John 3:16 remarks) yards and two touchdowns while adding another touchdown on the ground.
Of his 10 completions and 316 yards, Thomas was the recipient of four catches for 204 yards and a touchdown.
The victory was a big one for Tebow and the Broncos. Now, the Broncos head to New England on Saturday to take on the Patriots, a team that beat Denver 41-23 last month.
---
New Orleans kept rolling with a 45 – 28 victory over the Detroit Lions. Drew Brees threw for 466 yards and three touchdowns (all touchdowns came in the second half) to put a stop to a productive season from a team that is not far removed from going winless.
The Houston Texans won their first playoff game since they joined the NFL. The Texans were powered by running back Arian Foster who rushed for 153 yards on 24 carries including two touchdowns. They were led by rookie quarterback TJ Yates, who completed 11-of-20 passes for 159 yards and a touchdown.
The Atlanta Falcons were embarrassed by the New York Giants when the Falcons couldn't even score a point in their 24-2 defeat Sunday. The lone points for the Falcons came on a penalty in the end zone that resulted in a safety. Eli Manning threw for 277 yards and three touchdowns in the victory to move on to face the Green Bay Packers.
By: Brandon Williams