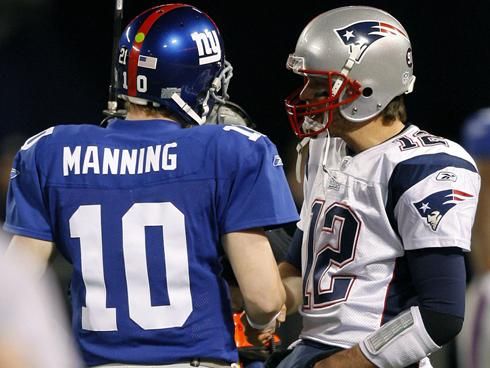 Well, it didn't take too long for the Tom Brady vs. Eli Manning rematch that some people were hoping for.
It was February 3, 2008 when quarterback Eli Manning and the New York Giants strolled into Arizona for Super Bowl XLII. Their opponent: the 18-0 New England Patriots led by quarterback Tom Brady. The favorite: the Patriots by 12 points. The outcome: An unbelievable drive led by Manning to give the Giants a 17-14 victory over the undefeated.
You see, it was just a few weeks prior during the final game of the regular season that the Patriots beat the Giants 38-35 to complete the perfect regular season. After Super Bowl XLII, they left that mark in the past and finished 18-1.
Fast-forward almost four years to the date, February 5, 2012 when the New England Patriots return to the Super Bowl again to face the New York Giants.
Both teams led by the same quarterbacks, the same head coaches and the constant reminder of their previous battle four years ago. The storylines for this game basically write themselves as you can see the talk of redemption for the Patriots or the talk of repeat for the Giants.
On Sunday, both the Giants and Patriots defeated their respective opponents by just three points each. For the Giants, it was a 20-17 overtime victory over the San Francisco 49ers. For the Patriots, it was a 23-20 win against the powerful Baltimore Ravens.
The differences from four seasons ago are noticeable with the Giants boasting a top wide receiver corps and the Patriots bringing one of the most dangerous offenses with multiple weapons. However, during the 2011-2012 regular season, it was the Giants who beat the Patriots 24-20 during their November 6 match-up.
What will the outcome be for this Super Bowl? Will we see Brady and the Patriots get their redemption for the late loss four years ago? Or will Eli Manning continue to prove doubters wrong and repeat history with a big win for his second championship?
One thing is for sure: With the way both of these teams have been playing, nothing is certain in terms of the final score, but you should definitely expect a great game.
By: Brandon Williams