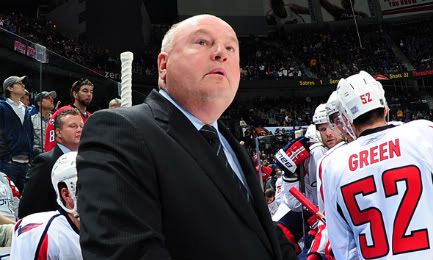 Fired on Monday, hired on Thursday; such is the life of Bruce Boudreau. The coach was fired by the Washington Capitals on Monday and hired by the struggling Anaheim Ducks on Thursday to take over for Randy Carlyle.
Carlyle, who had been coach the Ducks since 2005, was fired after their 4-1 win over Montreal Wednesday, a win that snapped a seven game losing streak. The Ducks had previously lost their 13th game in a 14 game span on Sunday with a 5-2 loss to Toronto. Carlyle, however, has been with the team for some of its most defining moments, including leading them to the franchise's first ever Stanley Cup title in 2007. He also led the Ducks to the playoffs in five of his first 6 seasons as coach, but has since only won one playoff round since the 2007 Cup win.
The Ducks (7-13-4) are looking for new life from their club and hope to have found it in Boudreau, a man who won 200 games faster than any coach in modern NHL history. Since taking over as coach of the Capitals in December of 2007, Boudreau has accumulated a record of 201 wins, 88 losses and 40 overtime losses for a total of 442 points. With Boudreau at the helm, the Capitals had made 4 straight playoff appearances, though making it to the semifinals just twice.
The Ducks hope to find similar success under the talkative personality of Boudreau. After starting off the season on a bad note, this could be a much needed change.
By: Brandon Williams