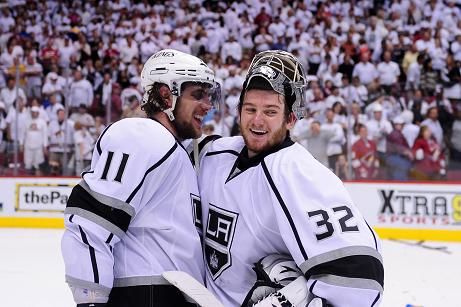 The Stanley Cup Finals have started and after Wednesday's 2-1 overtime victory, the Los Angeles Kings are just three wins away from being crowned champions.
Jonathan Quick had 17 saves and Anze Kopitar scored a remarkable breakaway goal in overtime to give the Kings the win over the New Jersey Devils and to keep their road record in these playoffs a perfect 9-0. Their overall record in the playoffs this year is 13-2.
Martin Brodeur made 23 saves for the Devils, but he couldn't stop the final shot that counted. With Kopitar all alone on the break, he made a nice fake of a backhand shot, putting the puck on his forehand before getting it past a fallen Brodeur to seal game one for the Kings.
Anton Volchenkov scored the only goal for the Devils and Colin Fraser provided the other goal for the Kings.
It appeared the Devils had a chance to take a lead with 16:02 left to play when Zach Parise scored, but referee Dan O'Halloran waived it off and the play was reviewed showing Parise swept the puck with his hand into the net.
Game two is set for Saturday in New Jersey where the Kings hope to keep their road streak alive and go up 2-0 in their quest for the Stanly Cup.
By: Brandon Williams Member of the Football Writers Association of America